Our services are focused on CNC machining of prototypes and low-volume production runs (1 to 100+) of small to medium sized parts in aluminium and engineering plastics.

Our machine park includes modern CNC machining centers as well as manual milling machines and lathes used for workshop support. We offer all the common CNC machining processes in-house such as turning, milling and drilling. Since we don't outsource the production of your parts, we can save time in order processing and minimize sources of error in the final products. CNC Proto offers you fast, highly precise and economical production of your CNC parts:
Precision: Whether you are producing an initial prototype or a final product, you can trust the part will match the measurements dictated in your CAD file. By default, we offer 3 different tolerance levels: ±0.10mm, ± 0.07mm, ±0.05mm. If you prefer you can also specify general tolerances in accordance with ISO 2768 (Standard, Fine). If you have a 2D drawing, tighter tolerances are obviously also feasible. Choose the tolerances you need for your part and save money.
Versatility: CNC milling and turning centers can handle projects with varying complexities and parameters with precision. Feel free to browse our CNC parts gallery for examples of the different parts we can produce.
Reproducibility: You can count on our machines to produce your product per your CAD file every time! Need a prototype? We can help you with that! In 6 months time, you have validated your design and need a small production run of your parts? We keep your design files so that you don't have to pay for setup costs again.
The parts that we machine are typically components that are used in many of the areas covered by the mechanical engineering field. Among these areas are for example the aerospace sector, cutting-edge R&D projects, components for motorised and non-motorised vehicles (automotive, motorcycles and bicycles), renewable energy, etc.. With modern milling and cutting machines we are able to offer you a leading quality at an absolutely competitive price.
---
CNC Milling

Our 3+1 axis milling capabilities combined with our engineering knowledge and experience gives us the possibility to produce highly accurate and quality parts to meet even your most stringent requirements. It allows us to machine parts with a size ranging from roughly a €1 coin up to 300x220x150mm.
CNC Turning

Our CNC turning centers give us the ability to process small turned parts with a size up to ⌀70x120mm. If larger parts are needed, we can always rely on our in-house manual machines to process your request. In either case you can be certain to receive parts that are within the tolerances you specify, on time, every time.
---
Focused material selection
We specialise in machining non-ferrous metals, in particular aluminium alloys, and engineering plastics. This means our tooling and production systems are optimised to offer you the best prices on your parts made of these materials. Here is a list of the materials/alloys we mostly work with. If you need a material or alloy other than the ones listed, please specify it in your Quote request. We will do our best to source your material of choice.
Aluminium 5083-H111
(Peraluman, AlMg4.5Mn0.7, 3.3547, A95083)
Excellent resistance to general corrosion.
Especially suited for cryogenic applications as it can withstand extremely low temperatures without becoming brittle or losing its other properties.
Typical usages: Marine, auto, and aircraft applications, unfired welded pressure vessels, cryogenics. Applications requiring a weldable moderate-strength alloy having good corrosion resistance.
Aluminium 6082-T6/T651
(Anticorodal, AlSi1MgMn, 3.2315, A96082)
Our most commonly used alloy for machining.
Medium strength alloy with excellent corrosion resistance.
Great for applications requiring decorative anodic coatings.
Typical usages: Highly stressed applications, machinery components, transport applications, structural elements.
Aluminium 7075-T651
(Ergal, AlZn5.5MgCu, 3.4365, A97075)
Very high yield and tensile strengths.
Typical usage: Aircraft, aerospace applications, gears, shafts. Applications where the strength of the material is critical and where the need for good corrosion resistance is not important.
PE-1000
(UHMW-PE, Polyethylene)
A self-lubricating, shatter resistant, long-wearing and abrasion resistant plastic.
Great for food and pharmaceutical equipment applications, gears and bearings, conveyor lines, etc..
POM-C
(Acetal, "Delrin")
A copolymer with high mechanical rigidity and strength.
Excellent machinability and ability to hold tight tolerances.
Used in precision parts requiring high stiffness, low friction, and excellent dimensional stability.
PEEK
(Polyether ether ketone)
Semi-crystalline thermoplastic that can continuously operate at temperatures up to 260°C.
Excellent mechanical and chemical resistance properties even at high temperatures.
Highly resistant to radiation.
Used in demanding applications such as components for the medical, aerospace and particle physics fields.
---
Finishes
Your CNC machined parts should be as beautiful as they are accurate! We offer 2 different part finishes for you to choose from. Parts can be left untouched or glass bead blasted. Please note that part edges are broken and deburred by default so that you can handle your parts without the fear of injury. If you do not want this, please specify it in your Quote request.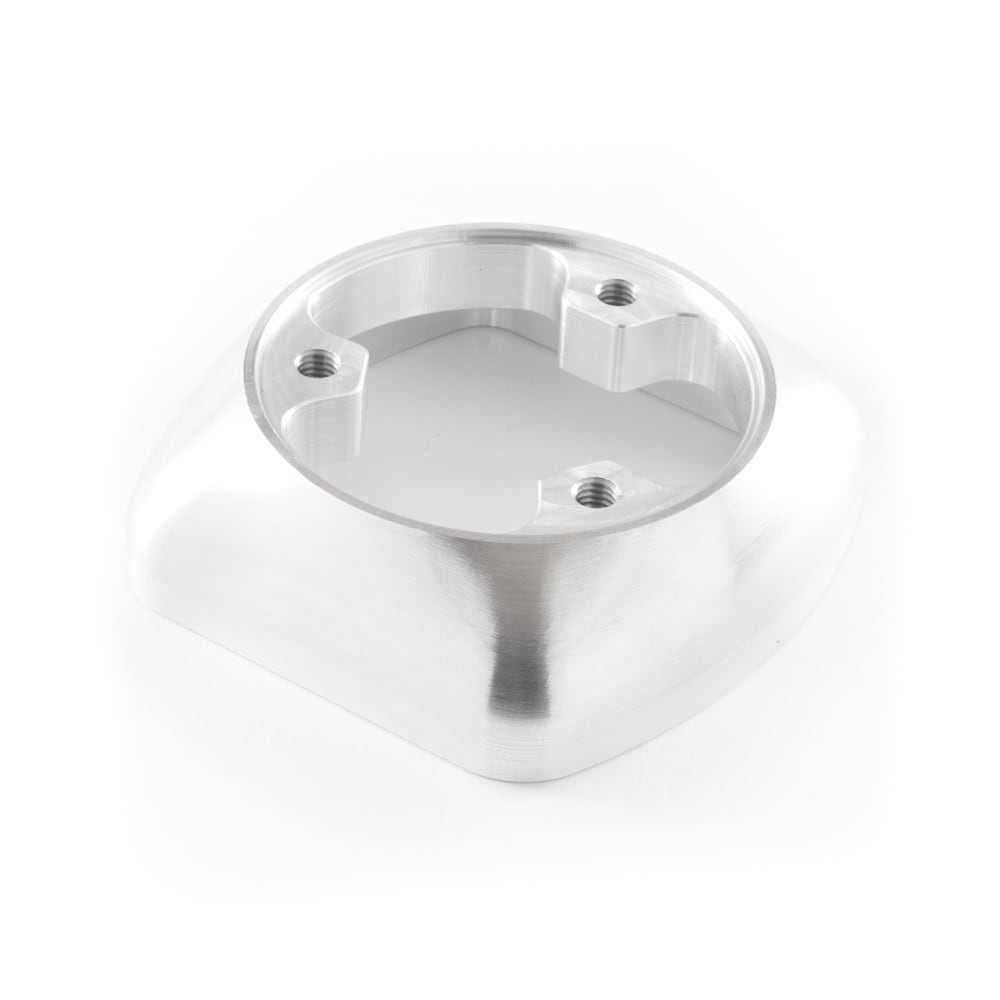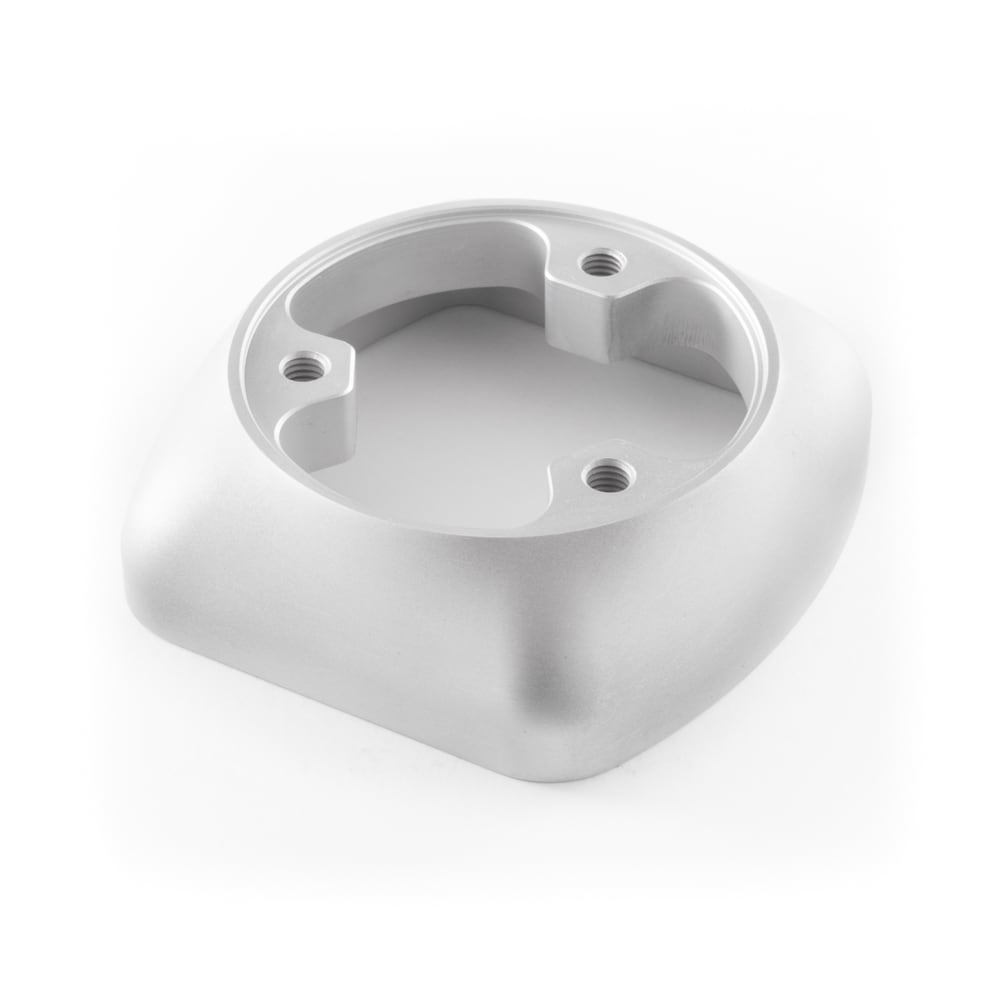 ---
Ready to start?
Upload your design, specify quantity, material and finish to receive within the next 24 hours a free quote for your CNC parts.
Get a Quote